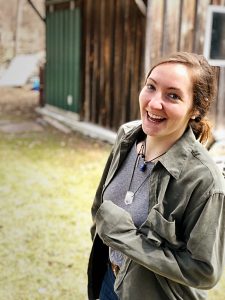 Makayla-Courtney McGeeney is a prospering photographer, poet, and journalist.
Since graduating from Massachusetts College of Liberal Arts with an English/communications degree and a concentration on public relations and journalism, Makayla pursued a position as a newspaper reporter for the Bennington Banner and Manchester Journal in Vermont. For about 16 months her beat included topics such as health, environment, arts, and entertainment in southern Vermont.
In April 2017 Makayla transitioned career focus to take on a brand new role in communications at Tunnel City Coffee in Williamstown, Mass. She was able to create this position while working part-time as a baker.
During the latter years of Makayla's college career, she invested in a short 50-page self-published mixed content memoir known as Growing UPstate. Recently she's explored writing poetry and reads at local WordXWord events. Makayla enjoys reflecting on life experiences on her blog, filming videos during trips for her Youtube channel, taking photos with really cool lighting and lifting heavy weights.
Freelance inquiries can be directed to mcmcgeeney@gmail.com.